William Townsend Onus Jnr (1906-1968) [1]
William Townsend Onus Snr was born in 1868 to Madha (or Martha) Hobbs, Hibbs or Higgs (d 1926). Madha was of the Darkinjung. She subsequently married (by Aboriginal rites) Ephraim Everingham [2].
William Townsend Onus Snr father was William Onus (1846-1913). He had by the same father, an older brother Alfred Hobbs (1867-1937). His father William was the child of William Onus (1822-1855) and Ann (nee Hough) (1822-1889) of Richmond.
William Townsend Onus Snr married Mary Maud Nelson (1888-1962) of the Yorta Yorta. Their son, William Townsend Onus Jnr (Bill) was born on 15 November 1906 on the Cummeragunga (it has various spellings) Aboriginal Reserve, Barmah on the Murray River. Bill left the Reserve when he was 16.
Bill married on 12 May 1928 Bella Elizabeth Patten at St Andrews Presbyterian Church West Wyalong. Bella had also been born at Cummeragunga Aboriginal Reserve. They had two daughters Christine Maud (1928-1951) and Isabelle Elizabeth (1934-1977) [3]. In 1935 the family was living at 6 Melvin Street Kingsgrove but by 1936 the parents had separated and Bill was living (without Bella) in Broadarrow Road Lakemba. In 1936 he then moved to 63 Copeland Road Beecroft. The two girls came to live with him and he cared for them with the assistance of a niece, Grace James. Throughout the 1930s his occupation was listed as labourer although he often displayed his boomerang throwing skills at travelling shows and at one stage went prospecting near Bega.
In August 1937 Onus Snr died while staying with Onus Jnr at Beecroft. Onus Snr was holidaying from Shepparton, Victoria [4].
Bill took a range of jobs including teaching boomerang throwing at Koala Park, West Pennant Hills, acting in movies by Charles Chauvel, Uncivilised (1936) and Ken G Hall Lovers and Loggers (1937) as well as driving delivery trucks. He and Bella divorced in 1941 and she proceeded to re-marry in the same year, John Alfred Doidge. In 1941 Bill produced his own film, while still surviving it does not appear to have been released [5].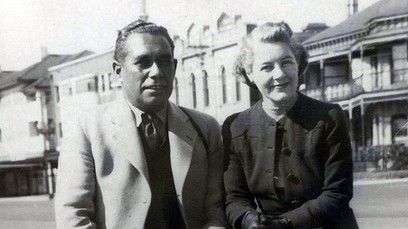 In 1939 he joined the Aborigines Progressive Association which had been formed in 1937 by William Ferguson and John Patten (1905-1957). Patten had been with Bill at Cummeragunga Aboriginal Reserve. In 1938 the APA held the first Day of Mourning on Australia Day and in 1939 Patten and Onus (together with Margaret Walker MBE who also appears elsewhere on this web site) led a walk out (or strike) at Cummeragunga Aboriginal Reserve: one of the first by Aborigines. By 1940 Bill was the Secretary of the APA.
Sometime before 1943, Bill left Beecroft because his electoral address in that year was 133 Darlington Road Darlington. In 1945 he was a co-founder of the Redfern All Blacks and appeared in another movie Harry Watt's The Overlanders. Then on 10 June 1947 he married Mary McLintock Kelly (1914-1988) who had been born in Glasgow, Scotland. The family re-located to Victoria where their son William McLintock Onus was born at Kew in 1948.
In 1951 he wrote a play An Aboriginal Moomba: Out of the Dark. It is from the title of this play that the Moomba Festival is thought to take its name.
In 1952 he was invited to meet Walt Disney but a visa was not granted because of a possible Communist connection. What he did do was to help found the Aboriginal Advancement League with the Rev Doug Nicholls who was not only an old boy from Cummeragunga Aboriginal Reserve but also (by then Sir Douglas Nicholls) became a Governor of South Australia. The AAL was instrumental in leading (in Victoria) the positive vote for the 1967 referendum.
Bill became the first Aboriginal Justice of the Peace in Victoria.
He died in 1968 in Deepdene, Victoria.
His son went on to become (under his name Lin Onus) one of Australia's most important artists, before dying in 1996 [6].
[1] See Australian Dictionary of Biography Vol 15; reasoninrevolt.net.au/biogs; The Guardian 20 July 2021 and G E Ford, Darkinung Recognition: An anatonomy of the historiography for the Aborigines from the Hawkesbury-Hunter Ranges to the Northwest of Sydney, Masters research Thesis, University of Sydney, 2010 to be found at https://ses.library.usyd.edu.au/handle/2123/7745 (accessed 26 October 2021).
[2] D Johnson, Aunty Joan Cooper through the front door: A Darug and Gundungurra Story (Mountains Outreach Service, Lawson, 2003). Madha was described as the last full blood of the Hawkesbury Tribe: V Ross, Cornstalks 1988: A genealogy (Valros Pty Ltd Sydney 1987) p 748. Ephraim (c 1815 – 1915) was reputedly the son of John Everingham the youngest child of First Fleeter Matthew Everingham. His mother is reputed to have been Budha or Butha or Mildred Saunders). Ephraim was listed in the 1891 Census as an Aboriginal half cast living at Sackville Reach. As a young man he was a noted cricketer. His occupation was farmer. He was buried at the Aboriginal Mission, Sackville.
[3] Christine married Ronald John Donnelly and died only months after the birth of their daughter, Christine: Daily Examiner 30 March 1951 p 6 and 14 September 1953 p 2.
[4] Cumberland Argus and Fruitgrowers Advocate, 25 August 1937 p 2.
[5] Held by the National Film and Sound Archive, Canberra, ACT
[6] J Raffan "Lin Onus" Menzies Auction Catalogue 9 July 2020 pp 72-77.