Robert Vicars (1867-1962) was one of five sons and two daughters of John Vicars and Ann (nee Moors). John Vicars (1820-1894) had been born in Dunblane, Perthshire, Scotland and married in 1855. John was a weaver in Menstrie, Scotland. In 1863 John and his family (not yet comprising Robert) migrated to Australia. The family first settled in Rockhampton where Robert was born. The family moved to Sydney in 1871 where John was appointed manager of Thomas Barker's woollen mills in Sussex Street. In 1873 John took over Thomas Barker's tweed mill in Sussex Street Sydney and three other local mills. This business changed its name to John Vicars & Co. The business was expanded to larger remises in Marrickville in 1893. In 1909 the fortunes of the firm took a decided turn for the better when it won the tender to supply cloth for uniforms for Compulsory Military Trainees. In 1914 John Vicars & Co took over Sydney Woollen Mills Ltd at Parramatta (the Darling Woollen Mills) with the intent of growing the business and better able to manage demand. The firm also won the tender to supply cloth for the uniforms of the First Australian Imperial Forces. The company realised an average 31 per cent increase in capital in World War 1 and again secured an important contract during World War 2. The company ran a strong campaign for people to buy Australian. Its workforce increased from 60 in 1893 to 1200 by 1935. 75 percent of its workforce were women. The firm prided itself on being a family business and director were called "Mr Jim" or Mr Gordon". Long standing employees who were ill or bereaved would be personally visited by a member of the Vicars family [1].
John campaigned strongly in 1876 for children in the child force to have restricted hour of working and to attend school. At the time almost 50% of his workforce were children – some as young as 10. He attended the Presbyterian Church [2].
After the retirement of the father, John, from the business, the eldest son (also John) also left the firm after 20 years and established a wool broking partnership with James P Johnson. The family business was then conducted under the co-proprietorship of Sir William Vicars and his younger brother Robert. It was these two brothers who, in 1921 gave their Pitt Town Farm to the Church Social Campaign to train needy ex-servicemen for work on the land [3].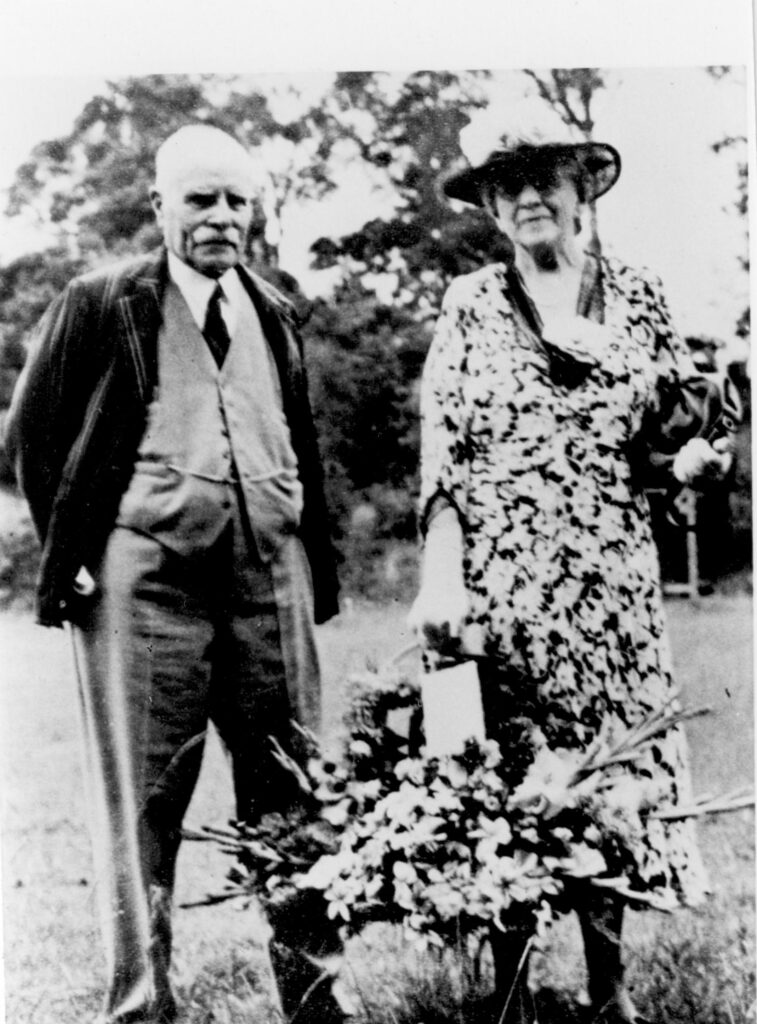 Robert worked in the family business and lived in a house on the site of the Marrickville Mill from 1905 to 1915. The move to The Mill House, 34 Victoria Road Marrickville was to permit Robert to be closer to Darling Mills at what is now Northmead, because he now managed this part of the business. This led to the decision of Robert and Violet to purchase vacant land in Cheltenham from William Chorley: coincidentally a tailor. While their home was being built they leased Sheen the Herring home on the corner of Hannah and York Streets, Beecroft.
Robert went on to become Governing Director of John Vicars and Company Limited and Sydney Woollen Mills Limited. He was a Trustee of Sydney Grammar. He was on the council for both the Presbyterian Ladies Colleges at Pymble and Croydon. He was Chairman of the Council for the School at Croydon from 1930 to 1931, resigning for health reasons. For 20 years he was President of the Textile Manufacturers Association of NSW and a member (and Vice-President from 1935) of the Council of the NSW Chamber of Manufacturers. In 1927 the Duke of York (later King George VI) visited the Marrickville Mill and was entertained in The Mill House.
Robert and Violet helped raise funds to establish both of the Beecroft and Cheltenham Croquet Clubs as well as the Beecroft Bowling Club.
They were on the committee to build the World War 1 memorial on the corner of Wongala Avenue and Copeland Road East.
Robert was critical to the foundation of the Pennant Hills Golf Club where he was on the committee from 1923-1935 and made a life member in 1947.
As a councillor on PLC Croydon he had strongly argued for a preparatory school to be built in Beecroft or Cheltenham.
This advocacy came with an offer of funding [3].
Robert took no active role as a member of a political party.
He died in 1962.
Memorials to Robert Vicars include:
· Stained glass window in Beecroft Presbyterian Church
· Vicars Education Centre, Beecroft Presbyterian Church
· Entrance gates to Beecroft Bowling Club
· Lead light glass windows, Cheltenham Girls High School
Each of his older brothers was knighted. The family business was hit hard by a July 1973 government decision to reduce tariffs by 25% and the company was wound up in 1976.
[1] R Casman & C Meader Marrickville: rural outpost to inner city (Hale & Iremoner, Petersham, 1990) p1870
[2] G P Walsh "Vicars, John (1821-1894)" Australian Dictionary of Biography (Melbourne University Press, Melbourne, 1976) vol. 6, pp332-3
[3] G P Walsh "Vicars, Sir John (1857-1936) and Sir William (1859-1940)" Australian Dictionary of Biography (Melbourne University Press, Melbourne, 1990) vol. 12, p324
[3] see the history of Arden elsewhere on this web site.