George Ogden was born around 1821 in Carlisle, Cumberland, England. He married Emma Browne and they lived, in 1851, with her three unmarried siblings in her home town of Norwich. His occupation was given as Superintendant of Police.
He and his wife migrated to Australia on the Albemarne in 1853 having secured employment as a surveyor with the Australian Agricultural Company. They brought with them a daughter, Emma Maria (d. 1883) [1]. In the Colony they had three more children George Edward (1854-1943) [2], Sophia C (1856-1895) and Richard Montague (1858-1932).
His wife died in Stroud in 1871. In 1873 he re-married Eliza Rodwell. They had seven children: Thomas Arthur (1874-1958) [3], Sarah Emma Constance (1875-1960), Gertrude Augusta (1877-1955), Florence Laura Mabel (1879-1969), Herbert Victor Rodwell (1881-1881), Harold (1884-1884) and Harold E (born 1885).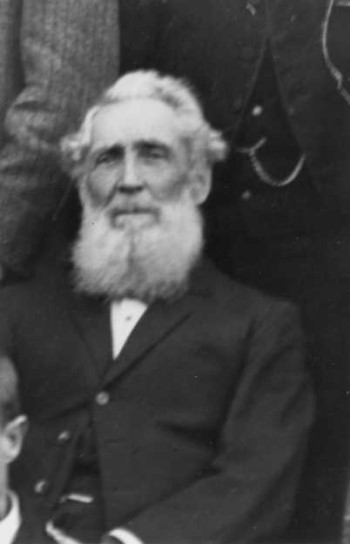 By 1878 Ogden left the Australian Agricultural Company and Stroud and became a surveyor with the Roads Branch, Surveyors General Office.
By 1893 he had moved to Beecroft to live in Willabah, Copeland Street (now Copeland Road) [4]. He became a Vice-President of the Kennedya Tennis Club. He died on 29 January 1900. In 1907 his widow was living in Castle Howard Road and then she and her daughter Constance [5] lived at Willabah Beecroft Road until they moved to live in Mudgee. It was in Mudgee that Eliza Ogden died in 1921
[1] Emma Maria was said to be 20 when she married in 1878 and yet she was meant to have travelled to the Colony with her parents in 1853. The ages do not therefore agree. She was married, by Father Fitzpatrick at Newtown in 1878, to Marie Pierre Charles, Comte de Gontaut (1844-1881) the eldest son of Elie de Gontaut-Biron, Vicomte de Gontaut-Biron (former French Ambassador to Berlin) and Augustine Henriette Marie Mathilde Radegonde de Lespinay. He died at a boarding house, Arnott House, Wynyard Square (50 Margaret Street), Sydney. They had one child Mary Adelaide de Gontaut-Biron (1880-1935). According to the 1930 Electoral Roll she was engaged in domestic duties and lived at Newington State Hospital. She does not appear to have married or had children. She is buried in the Catholic Section of Rookwood Cemetery. See: Sydney Morning Herald, 22 April 1878, 22 April 1878 p1, 5 November 1880 p1, 19 February 1881 p1; Evening News, 22 April 1878 p2; Maitland Mercury, 13 February 1883.
[2] George Edward married in Stroud, Emma Matilda Taylor
[3] Thomas Arthur married Annie Watson
[4] Cumberland Mercury, 22 July and 24 October 1893; 20 January 1894.
[5] See entry on this web site for Miss Ogden's School under Environment-Schools-Early Schools