Andrew Murray of Murray Farm Road.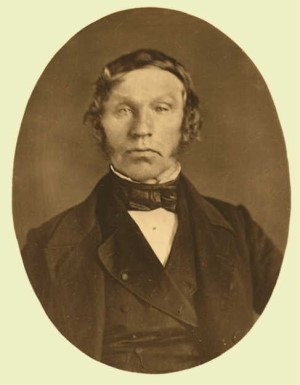 Andrew Murray (1793-1858) was born at Greenwells, Melrose, Scotland the son of David Murray, a farmer, and Christina (nee Buchan). Until he was 20 years old he worked as a gardener for his uncle, Sir Walter Scott on his estate Abbotsford. From 1813 he worked in the nursery of Thomas Gibbs & Co, Half Moon Street Piccadilly to gain experience with plants. In 1817 John Macarthur visited the nursery to seek assistance with potting grapes and olives for sending to New South Wales. Macarthur convinced Murray to travel to the Colony and to work on Macarthur's estates. Murray sailed on the Lord Eldon where he tended 120 potted plants, arriving in September 1817. On board he made a lifelong friendship with James Milsom – who was another young man recruited by Macarthur.

On 13 July 1810 Murray married Eleanor Margaretta Kilpack whose father First Fleeter David [1] sold his land to John Macarthur and stayed on as one of the Macarthurs farm managers at the Cornwallis Farms, Pennant Hills. The family story is that Murray met Eleanor while he was shepherding sheep on the Cornwallis Farms (ie somewhere near where Beecroft now is) where she too was living. Following their marriage the Murrays moved to Camden where Murray worked on the Macarthur estates and was appointed a Constable. In April 1820 their first child was born there. In March 1822 Murray relinquished his post as Constable and became an overseer in the Government Domain, Parramatta. In 1822, Murray also had a 330 acre grant where he had cleared 50 acres. In the same year he also claimed 640 acres near Wollombi in an area still called Murray's Run.
Following Macarthur's surrender of his Cornwallis Farms [2] Murray purchased in 1823, 280 acres of these farms. The purchase included the land and overseer cottage formerly occupied by his wife's father. He built on this land a two room 'log' house and a barn 40 foot long [3]. He then divided this land into 30 acre farms which he rented out. In 1830 he purchased a further nearby 110 acres from Thomas Hackett.
In 1827 Murray was appointed as overseer at Carter's Barracks – which was located at the bottom of Brickfield Hill, Broadway, Sydney. This was the area where horses were stabled for the carts that serviced Sydney. Also based there were the trades who worked on the carts and horses and gardens for vegetable as well as a treadmill and lumber yard. He and his family lived in Ultimo Cottage, that he leased from John Harris. His role was made redundant in 1834 and in the following year he took a new job as Gaoler at the New Debtors Prison established at Carters Barrack. He was then replaced in that role a few months later. In July 1836 he was still based at Carter's Barracks as this was the address that he gave at the time of his daughter's wedding.
Over the next twenty years Murray sold his land at Wollombi and ran a hotel in the Vale of Clwydd before buying land near Bathurst while managing the Macarthur holdings in Ultimo and living in Parramatta.
In 1856 he purchased a further 155 acres at Pennant Hills to add to his existing holding. He erected a two room sandstone cottage on this new purchase for his manager – on the current Murray Farm Road.
He died on 21 May 1858 and was buried in the Kilpack family grave at St Johns Cemetery Parramatta. The grave contains a quote from Psalm 23. It had been his express wish that he be decently, but not expensively, placed in a Christian burial ground.
He left his Pennant Hills land to his daughter Elizabeth Sophia who in 1853 had married in Bathurst, Neil Stewart. She died in Parramatta in 1889.
[1] The story of First Fleeter, David Kilpack is told elsewhere on this website under People.
[2] For this transaction see elsewhere on this website.
[3] Murray to Colonial Secretary re land. SR NSW Reel 1116.