James Devlin was born in 1808 the eldest child of Arthur Devlin, an Irishman from Wicklow who was transported for his part in the Irish Uprising of 1798 and Priscilla the daughter of First Fleeter James Squire.
Squire was the first brewer in the Colony and made his fortune at Kissing Point. Squire had a wife and 3 children in England but here had a son Francis, by Mary Spencer on Norfolk Island in 1790, and then children by Elizabeth Mason – including their first born, Priscilla. It is known that he then lived with Elizabeth Griffiths around 1801, with Lucy Vaughan by 1814 and a housekeeper Lucy Harding was still alive at his death in 1822.
After Arthur Devlin died in 1820 his widow Priscilla remarried Thomas Small (born 1799) the son of First Fleeter, John Small. Thomas owned the Waterloo Tavern at Kissing Point and was only 9 years older than his step son. James benefitted from the estates of both his grandfather James Squire and step-father Thomas Small.
Originally trained as a wheelwright, James later turned his hand to many things. In 1832 he was the Kissing Point pound keeper, then in 1841 the Ryde postmaster. On his land in Ryde he initially became an orchardist where at one time he earnt up to 1200 pounds per year until the price fell away. He was also a wholesale butcher supplying meat to the Tarban Creek Asylum, Parramatta; the Parramatta Orphan School and Cockatoo Island Prison. He was a Trustee of the Field of Mars Common.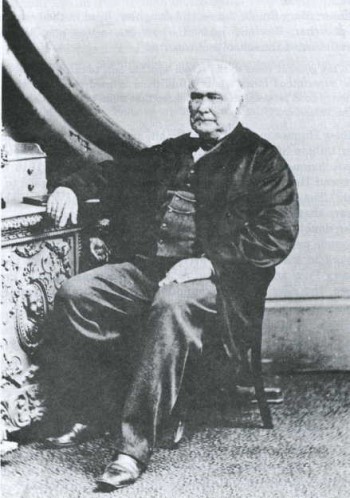 In terms of other property, James had a property Glenugie on the Clarence River and from as early as 1831 when he was only 25 years old he settled his first land around Wagga eventually owning a number of stations there.
In 1835, James bought William Farm in what is now northern Epping from trustees appointed for the sale of the land holdings of William Kent. This farm comprised 460 acres and cost him 172 pounds. The farm abutted a creek on its western side and that creek is now called Devlins Creek. His step-father Thomas Small purchased neighbouring land.
From 1841 he sold property at Wagga and, closer to home, town lots in Top Ryde so as to both finance the building of his home and to replenish finances lost during the 1840s depression. His home Willandra was started in 1841 and finished in 1845. It still stands prominently at the corner of Victoria Road and Devlin Street, Top Ryde. It is described by the National Trust as one of the finest two storey Georgian houses in NSW.
His first wife was Mary Ann Hartigan whom he married in 1831 and following her death in child birth he married, in 1834, Susannah (born 1810) the daughter of Matthew Hughes the first schoolmaster in Ryde and granddaughter of John Small and niece of his step-father Thomas.
James and Susannah moved in 1873 to live on his country property at Wagga and in 1874 he sold Willandra. He died there in Wagga in 1875. His widow lived until 1907. They had 10 children – all born in Ryde.
William Farm on Devlins Creek was used by James primarily for timber with some cattle agistment. It was sold under his estate in 1883 to a land developer company, Scottish Investment Co Ltd. He never lived there.