Knight, Harold Murray Kt, KBE, DSC MComm,
Sir Harold Knight was born in Melbourne on 13 August 1919 to Walter and Agnes Knight. He won a scholarship to attend Scotch College Melbourne but had to leave school at the age of 16 years to support his family when his father had to quit his job as a train driver due to a loss of hearing. Knight joined the Commonwealth Bank.
He volunteered to serve in the navy during the Second World War and was awarded the Distinguish Service Cross for charting islands around New Guinea while they were occupied by the Japanese.
Following the war he returned to work with the Commonwealth Bank: which transferred him to Sydney where in 1951 he married Gwyneth Catherine Pennington.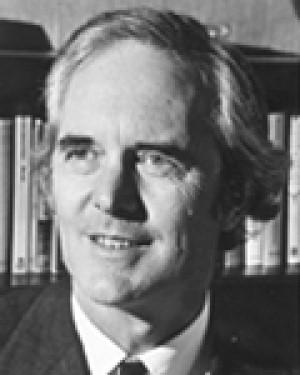 In 1954 he was seconded to the International Monetary Fund in Washington DC and returned to Australia in 1959 where the family started living on a 5 acre block at 43 Murray Farm Road, Beecroft. At this time it was a quiet bushland corner although this is now hard to imagine because of the subsequent construction of the expressway.
Following establishment of the Reserve Bank Knight was originally appointed as head of the Reserve Bank's Investment Department. He was then appointed deputy governor in 1968 and then the third Governor of the Reserve Bank in 1975. He held this position until his retirement in 1982.
For services to banking he was made a Knight Commander of the Order of the British Empire in 1980.
Following retirement he was appointed to a range of company boards including Western Mining, ING, Angus & Coote and chaired the Australian Board of the Industrial Bank of Japan. He was a Councillor at Macquarie University
At his death, his son Dr Andrew Knight, said that: "his strong personal Christian faith drove his core values and led him to devote decades of leadership to the Scripture Union, Crusader Union, Bible Society and the Anglican Church. He served for many years as a member of the Synod of the Anglican Diocese of Sydney and its Standing Committee and was a lay canon of St Andrews Cathedral."[1]
The family home originally in Murray Farm Road was expanded by the construction of a tennis court and swimming pool. It was then subject to a battle axe subdivision before being fully redeveloped with the construction of what is now Meadow Close off Midson Road. The family then moved to a smaller parcel of about 2 acres at 39 Hull Road. This post war two story home was modified by the addition of 4 bedrooms and a swimming pool before a series of subdivisions eventually giving the home a Chapman Avenue frontage. The land was well maintained with an extensive garden, tennis court and the new swimming pool. Upon the sale of this property Knight moved to a newly built two storey house in a recent subdivision in Malton Road. The family remained in this home until moving away from Beecroft to Wollstonecraft. [2]
His children comprised 4 sons and a daughter. The eldest child, John, attended Epping Heights and Epping Public Schools while each of the other children attended Beecroft Public School. The three eldest boys attended The Kings School. [3] Of these three, Andrew only attended The Kings School in 1971 and 1972 when he moved to St Andrews Cathedral School, also attended by his brother Paul, where they were both choristers. Susan attended Tara.
While living in Beecroft, Knight was closely involved with St Johns Anglican Church. He was an active member of the church being at various times churchwarden, a member of Parish Council and a lay preacher. It was during this time that St John's established its branch Church, St Peter's in Murray Farm Road. Knight was often the sole celebrant in that church on a Sunday morning – reading the service and delivering the sermon.
Gwyneth died in 2013. Following his death on 19 June at the age of 96, a memorial service for Sir Harold was held at St Andrews Cathedral, Sydney on 26 June 2015. [4] The service was attended by not only a number of bishops and others connected with the Anglican Church but also John Stone, formerly of the Reserve Bank, and former Prime Minister John Howard.
1.. Obituary, Sydney Morning Herald, 26 September 2015
2. Email communication, Dr J F Knight to R Best dated 26 October 2015
3. . P Yeend (ed) The Kings School Register 1831-1981 (Parramatta, 1962)
4.. Obituary, Sydney Anglicans, http://sydney angicans.net/news/vale-sir-harold-knight accessed 7 August 2015