Herbert Vere Evatt (Bert or Doc) HV MA LLD KC MLA. was born on 30 April 1894 in East Maitland. His father died when he was 7 and his mother strongly  encouraged her intellectually gifted sons. He matriculated brilliantly from firstly Fort Street High and then the University of Sydney with first class honours in Arts and Law. He was admitted to the Bar in 1918 – the same year as he joined the Australian Labor Party. This combination was to be followed throughout his life. He established a brilliant and distinguished law practice. In 1925 he was elected as State member for Balmain standing for the ALP. He became an outspoken critic of the Lang government and so was refused endorsement in 1927 when he then held Balmain as an independent. In 1929 he took silk and became a King's Counsel. Then in October 1930 he quit politics at that election to concentrate upon his legal career. His practice at the time was one of the largest and most lucrative in Australia earning fees of 8,000 to 10,000 pounds per year.[1]
Mary Alice Sheffer was born on 15 December 1898 in Ottumwa, Iowa, United States of America. She arrived with her parents at one year old and grew up in Mosman.Her father was a manufacturing chemist and became a wealthy man. She studied (initially architecture) but graduated in arts at the University of Sydney where she met Evatt. Together, in 1918, they worked on the University publication Hermes. [2]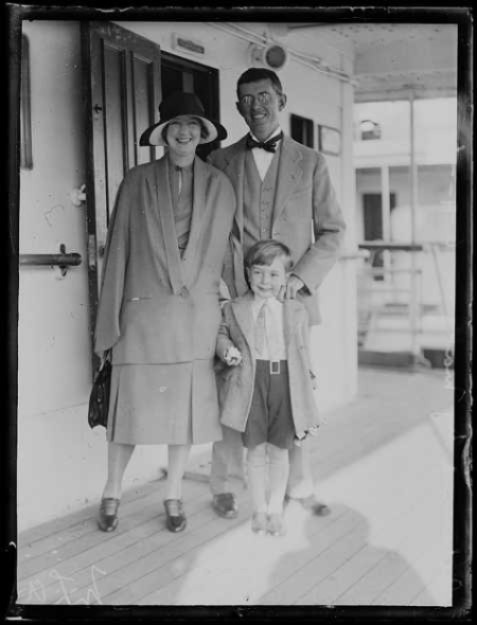 While Evatt was the member for Balmain, the Evatts lived in Birchgrove however they wanted to move from there because they suffered from the industrial smog there is also the suggestion that neither wanted to live in a working class suburb. [2] They had two children – Peter and Rosalind. The first, Peter was adopted while living in Birchgrove. In August 1929 the Evatts move to Ottumwa 50 Beecroft Road, Beecroft and he first appears, at this address, in the 1931 Sands Directory as "Evatt HV MA LLD KC MLA." From his titles it would appear that he moved before he quit politics, although the move away from his electorate might indicate that he was thinking of doing so. [3] The Evatts were no longer living in Beecroft in the 1931-32 Sands Directory when their former home is occupied by Mr D Stewart. They had purchased 'Nuuanu' in Mosman in 1924 and rented it out following their initial move to Balmain. Following the vacation of tenants, the Mosman house was renovated during early 1931 with rooms described by Mary Alice as being "like a page from the [New York based] Ladies Home Journal." [4] 'Nuuanu' is a valley on the island of O'ahu in Hawaii where the Evatts spent part of their honeymoon
It is surmised that by naming their home in Beecroft after her birth place, Mary Alice had some intention of remaining in the home. This is further evidenced by Mary Alice organising a fund raising 'grocery gift afternoon' at her Beecroft home in December 1930 for the Malahide Red Cross Hospital at Pennant Hills. More than 80 guests including Mary Alice's mother attended. Two car loads of groceries were raised for this Red Cross venture, and a leading lawyer Mr Norman Ebsworth, spoke.[5]
Shortly before the gracious afternoon in Beecroft, in March 1930, the Balmain Rozelle Relief Fund wrote to Evatt seeking a donation "to help relieve the dreadful distress now again prevalent in the district." [6] Evatt gave a significant monthly donation to this Fund. The contrast between the impact of the Great Depression on residents of Balmain and Beecroft was stark.
Then, upon the resignation of Sir Isaac Isaacs to become Governor-General, on 19 December 1930 Evatt is appointed a judge of the High Court of Australia. At the age of 36 years he was the youngest person ever to be so elevated. At the time the High Court sat largely in Melbourne and Sydney but also had other short sittings in other State capital cities. The family moved to Mosman where Mary Alice had grown up. They also took a flat in Melbourne. [7]
Mary Alice went on to have an important role in the visual arts before dying in 1973.
Evatt left the High Court in 1939 and re-entered politics in 1940. He went on to being Minister for Foreign Affairs during the war and post war years ; to play a critical role in establishing the United Nations and, eventually lead the federal Australian Labor Party, before accepting appointment as Chief Justice of the NSW Supreme Court in 1960. After suffering a stroke in 1962 he resigned his appointment and died in 1965. The then Prime Minister, Sir Robert Gordon Menzies, was one of his pall bearers.
Evatt's niece, Elizabeth Evatt then Chair Royal Commission on Human Relations was one of a number of distinguished women to attend in 1974 the celebration of Marie Byles [8] 50th anniversary of admission as the first female solicitor. [9]
1 Australian Dictionary of Biography Vol 14
2 K Tennant Evatt: Politics and Justice (Angus and Robertson, Sydney, 1970) p32
3 J Murphy Evatt: A Life (NewSouth Publishing, Sydney, 2016) p 107
4 J Murphy Evatt: A Life (NewSouth Publishing, Sydney, 2016) p 90
5 Sydney Morning Herald, 18 December 1930, p5
6 J Murphy Evatt: A Life (NewSouth Publishing, Sydney, 2016) p 112
7 K Tennant Evatt: Politics and Justice (Angus and Robertson, Sydney, 1970) p95;
J Murphy Evatt: A Life (NewSouth Publishing, Sydney 2016) pp 52,111
8 See article on these web pages for Marie Byles
9 A McLeod The Summit of her Ambition (privately published, Sydney, 2016) p 185