Rollo Kingsford-Smith

DSO AM DFC
With the surname of one of Australia's pioneer aviators, it was almost inevitable that Rollo Kingsford-Smith would join the RAAF in 1938, becoming one of Australia's most decorated aviators and after the war continue in the aviation industry becoming the Chief Executive, and later Chairman of Hawker de Havilland Pty Ltd.
Born 14 July 1919 in Northwood, Rollo Kingsford-Smith was taken as a boy on his first flight by his uncle Sir Charles Kingsford Smith. He received his Leaving Certificate from Sydney Boys High in 1936 and then attended night classes at Sydney Technical College. In July 1938 he undertook pilot training at the RAAF's Point Cook and in October 1939 he was posted to No 6 Squadron, Richmond conducting coastal reconnaissance patrols, and later he was involved in training pilots at Point Cook, Victoria.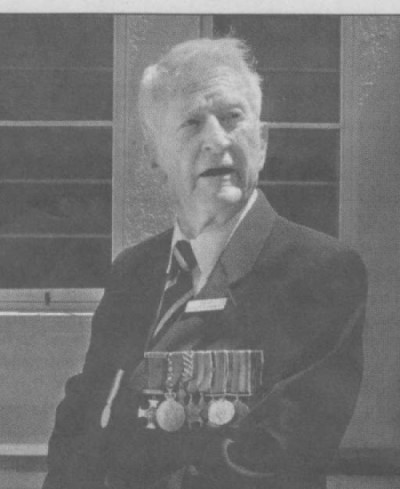 In 1942 Rollo was promoted to Squadron Leader and joined Bomber Command in England, initially in the operational training units. In September 1943 he became a Flight Commander in RAAF 467 Squadron, flying Lancaster bombers on night bombing missions over Germany, France and Italy. In November 1943, he was promoted to Wing Commander and commanding officer of RAAF 463 Squadron, a new Australian Lancaster bomber unit based at Waddington, Lincolnshire. Prime Minister John Curtin visited Waddington in May 1944 and awarded Rollo the Distinguished Flying Cross, which was followed in August 1944 by an award of Companion of the Distinguished Service Order for conspicuous gallantry. Rollo Kingsford-Smith flew 34 bombing missions, including the Normandy coast on D-Day. In April 1945 he took command of 627 Squadron, a Pathfinder unit flying Mosquitoes that dropped flares to mark the path for the following heavy bombers.
He returned to Australia in July 1945, but led the Australian RAAF contingent in the 1946 Victory celebrations in London. Rollo left the RAAF in April 1949, with the rank of Wing Commander. Rollo wrote about his wartime experiences in a privately published memoir: I wouldn't have missed it for quids. He founded the Bomber Command Association in Australia .
Rollo Kingsford-Smith had married Grace Prior in 1940. The Prior family owned The Bulletin magazine from 1927 until its sale in 1960 to Frank Packer. On his return from war service, the Kingsford-Smith family settled in Hannah Street, Beecroft. In 1949 Rollo joined the aircraft manufacturing and maintenance company Hawker de Havilland Pty Ltd, based at Bankstown Airport as commercial manager. He subsequently became Managing Director in the early 1960s and retired as Chairman in 1990. Rollo was appointed a Member of the Order of Australia in 1985 for his services to the Australian aviation industry, particularly the development of a high technology export business. Rollo was active in veteran affairs and he initiated the establishment of Bomber Command Association in Australia and the annual Bomber Command Commemorative Day in Australia. He was also Patron of the NSW Branch of the 463/467 SQN Association.
Rollo purchased land at Exeter and built a house, to which he and Grace moved after his retirement. Rollo died at Bowral in on 14 June 2009, one month before his 90th birthday; he was survived by Grace and three daughters, five grandchildren and four great-grandchildren.[1]
In retirement, Rollo became active in the debate about Australia becoming a republic and adopting a new national flag. He formed the group Veterans for a Republic, having become a republican in April 1944 following the British Government's attempt to prevent RAAF bomber crews returning to Australia after their tour of duty in England in order to fight in the Pacific War and the resultant diversion of RAAF reinforcements to RAF squadrons.[2] In his view, Australian interests should not be subservient to British interests and Australia should leave the British Empire when the war ended. Rollo also joined Ausflag as a director. He explained his position on the flag in an article in Australian Geographic [3], stating: "As a serviceman in World War II, I saw my share of fighting and witnessed the deaths of far too many Australians in combat. However, I certainly didn't fight for the flag and I didn't know anyone who said they did. Success and survival in war depends on luck, skill, determination and discipline – when you're in the thick of it, there isn't time to worry about something as irrelevant as a flag."
Grace Kingsford-Smith was an active member of the Beecroft Auxiliary of the Children's Library and Crafts Movement, including a term as President from 1951 to 1954 and continuing on the executive committee for a number of years.
[1] "Obituary: Loyal fighter was a republican", Sydney Morning Herald, 13 July 2009.
[2] "Foreign flags made war heroes republicans", by Mike Steketee, The Australian, 30 August 1995.
[3] "A Flag for the New Millennium", Australian Geographic, April-June 2001, p35.