Pioneer feminist, conservationist and mountaineer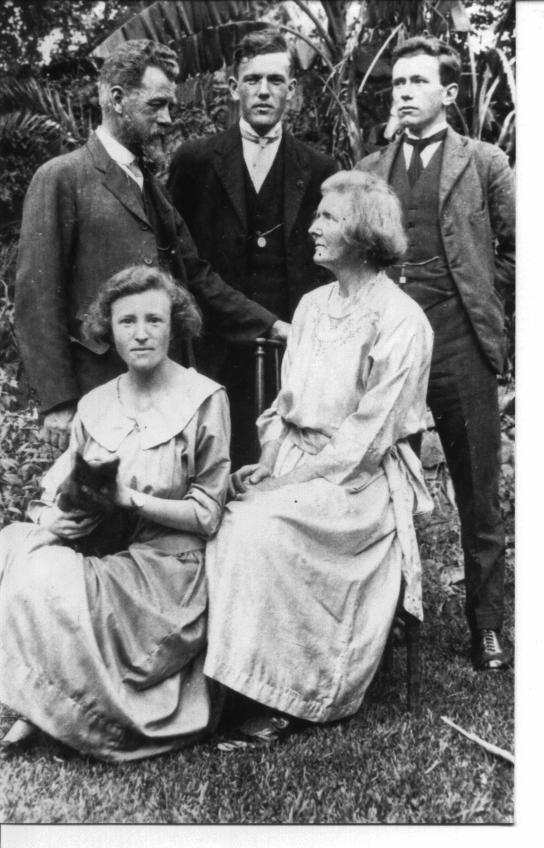 Marie Beuzeville Byles was undoubtedly one of this district's most significant residents. She was the eldest of the three children of Cyril Beuzeville Byles (1871 – 1952) and Ida Byles nee Unwin (1869 – 1953). Ida's first cousin was the noted publisher Stanley Unwin. Ida received regular income from the publishing house.
Marie was born on 8 April 1900 when the family were still living in England – at Ashton upon Mersey.
In 1911 Cyril and Ida Byles left England for Australia where Cyril took up the position of Chief Signals Engineer with the NSW Railways. In this capacity he designed the signals system as part of the electrification of the railways. Cyril and Ida Byles were vegetarians, Fabian socialists and Unitarians and Ida Byles was teetotal and a suffragette. She encouraged her daughter to pursue an independent life.
Family influences
Marie said of her family that she was raised "in an atmosphere of indifference to prevailing standards." There are separate articles on this web site of her parents Cyril and Ida, and family connection Wilfred de Beuzeville.
In addition to the family home in Beecroft, in 1914 Ida purchased land, and built on it, to give the family a holiday house in Palm Beach [1].
Marie's nephew Brian (David's son) lived with Marie for a few months after re-locating from Batlow. He said of Marie:
"You're alright with Marie if you are a yes-man."
While his mother Babette said of her sister-in-law:
"She took after her father and organised everyone. She was very studious. On one occasion there was a bushfire down in the valley below Chiltern and they were all rushing around but Marie was too busy with her books even to come out and look at the fire. She and her mother were born before their time. My feeling is that she did out-of-the way things because she didn't want to be challenged by anyone else. I may be quite wrong but that is the way I see it looking back. She liked being the odd one out" [2].
Marie Byles's education and legal career
Marie was educated at Beecroft Primary School where she was dux, and subsequently initially at the Presbyterian Ladies College, Croydon but then transferred to the Presbyterian Ladies College Pymble (following the appointment of the Deputy (Miss Constance Mackness, as the new Headmistress) where she was dux and head prefect. Never a conformist, she resisted attempts by the school to mould her as a conventional Christian young lady. At university she rejected the Christianity she had learnt from her parents.
She won an Exhibition to the University of Sydney where she graduated BA Hons in 1921 and in Law in 1924. Women had studied in the Law Faculty since 1902 but were not permitted to practice as lawyers until 1918. Even then, the profession remained hostile to recognizing women's ambitions and for almost all the time when she was a student, Marie was the only woman in any of her classes. For her admission she asked Mr A B Piddington KC to move this before the Supreme Court. On the same day as her admission automatic signalling took over from manual on the Sydney railways – milestones were attained for both father and daughter!
In 1929 she graduated with a degree in Economics with First Class Honours.
Unable to find employment as a solicitor, after some years as a legal clerk, Marie became the state's first female practising solicitor, establishing a practice in Eastwood in 1929. A lifelong feminist, in the 1950s at Eastwood she insisted on sharing the firm's profits with her staff, all of them women, some married. Where they showed aptitude she encouraged them to do part time legal studies. The work was mainly conveyancing, probate and some matrimonial matters [3]. She undertook honorary legal work for a range of walking, heritage and conservation societies.
She also became a publicist for the women's movement, writing especially on discriminatory provisions in the law and discriminatory practices in the courts. As legal correspondent (1927 – 1936) for the Australian Women's Mirror (and before that Dawn) she drew attention to cases where magistrates and judges interpreted the law to make woman's behaviour the issue on trial. In her journalism she advised women of their rights.
She had decided that she would not marry and later declared, "I wanted to be taken seriously as a lawyer. I had no interest in being pursued" or elsewhere she wrote: "There were interesting books to read, lectures to listen to, mountains calling to be climbed, worthy causes to be espoused. As for copulation, which we share with the animals, this was merely repulsive." In connection to personal relationships for Marie there is a record from the early 1930s when Dymphna (Nel) Cusack came and stayed with her, initially while still a student and then as a teacher. Nel went on to become a noted author and a leader of the peace movement. Later Nel talked of how she found it difficult to cope with Marie's 'very emotional attitude' towards her and that 'Marie was not a natural celibate.'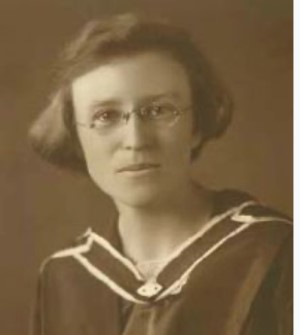 Wilderness explorer, mountain climber and conservationist
During her twenties she became an enthusiastic walker and camper and although she was only 158cm tall and slightly built she had great endurance. She joined Sydney Bushwalkers but continued to explore independently. With friends she walked and camped in the coastal bushland behind Maitland Bay in New South Wales, becoming aware of its varied vegetation and splendid scenery. She began a campaign for the establishment of a 263 hectare national park, now Bouddi National Park and about five times the original size. The Park was formally created in 1935.
For many years she was a trustee of Bouddi and organized working bees to create walking tracks through the park. Her efforts are commemorated in the Marie Byles lookout in Bouddi. She was a core supporter in the organisation of bushwalking organisations. Between 1943 and 1947 she was honorary secretary of the Federation of Bushwalking Clubs. One of these clubs, the Sydney Bush Walkers was described by one of its members (only half jokingly) as being "notable for having more eccentrics to the acre than any other body of people in Sydney." Byles legal and environmental credentials led to her acting as consulting solicitor for the drafting of the Constitution of The National Trust in 1946.
Her mountaineering career began when she undertook a year's travel after four years working as a law clerk. In 1928 she climbed Mt Cook in New Zealand. Then, in the late 1930s, leaving her practice to partners she began undertaking further overseas climbing trips, attracted by climbing in Asia. In 1938 she led a small expedition to Mount Sanseto, an unclimbed peak in Yunnan province in China, but she did not succeed in scaling the summit, to her great disappointment. Marie had always wanted to be "out in front" and to go "where no one else had been before", so this was a serious setback.
In 1939 she was made a fellow of the Royal Geographical Society.
In 1941 while walking from Maitland Bay to the Scenic Road she severely damaged the ligaments and bones in her right foot resulting in permanent damage that was only exacerbated by medical treatment.
Ahimsa
Her travels through Asia led her to study Buddhist teachings and begin meditation. She was an original member in 1951 of the Buddhist Society of New South Wales. However, taking an independent path here also, she sought to incorporate into her belief system elements from Gandhi's teaching.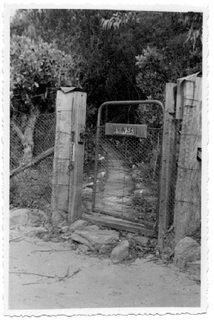 In 1937, after camping overnight on flat sandstone rocks Marie purchased 1.4 hectares of Crown Land at Cheltenham, at the end of Day Road. Here amid the open forest she planned and built a simple one-room cottage. The name she gave it, Ahimsa, means 'non-violence' and reflects her interest in Gandhi's ideas. Throughout her life she opposed the taking of life.
She specified that the house be built of unpainted fibro and oiled timber with a terracotta tile roof. She wanted it to blend into the environment. It has a north-facing verandah, where she often slept. Around the house she planted an organic vegetable garden but left the surrounds as untouched native bush. In early summer the hillside is covered in flannel flowers in bloom. A striking addition to the property is The Hut of Happy Omen constructed by volunteers in 1942 to Marie's specifications. Although open to the elements, a system of bi-fold doors, recycled from a building in Eastwood, provided protection for guests. Here was a place for friends to visit or stay and practice meditation.
In 1947 she applied to be a member of the Society of Friends (Quakers) but they did not proceed with her application when it was clear that she was not Christian. Instead Marie became involved in establishing a Buddhist Society. This involvement increased as her capacity to continue her bushwalking diminshed.
Later years
An injury had curtailed her more strenuous bushwalking and climbing activities. In 1963, however, she became a founder member of the Beecroft Cheltenham Civic Trust, served on its first committee and joined an early bush regeneration group led by John Noble. She led local walks, aiming to foster appreciation of the bushland. These walks usually ended at Ahimsa where refreshments were offered.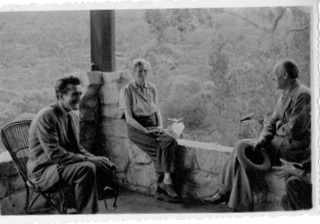 Marie always walked to Cheltenham railway station, striding dressed comfortably in pants and with a backpack to catch the train. Not surprisingly, she was regarded by many locals as an eccentric. On the wall of Ahimsa was a framed note stating that her life was not to be extended artificially.
In 1966 she was attacked, probably by a disgruntled client, while sleeping in her home. She never recovered from the injuries and did not return to her legal practice. She also gifted (with implicit expectations of are and obedience) to each of her friends Dorothy Hasluck and John & Vreni Fallding adjoining blocks of land. In 1970, concerned for the future preservation of the property she gave Ahimsa to the National Trust, remaining in residence as an Honorary Curator until her death in 1979. She added a detached bed sitter, Sentosa, in 1975. Today, a National Trust caretaker resides on the Ahimsa site.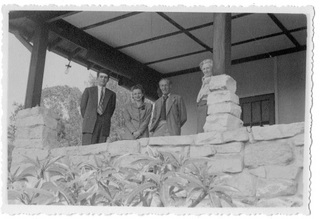 The Hut of Happy Omen and the grounds are open to visitors who can enter either from the gate in Day Road or from the entrance in Cobran Road. The site remains a peaceful and beautiful place to rest and picnic.
[1] Sydney Morning Herald Domain, 26 January 2013 p2.
[2] Interview with Mrs Babette Byles, 27 May 1989.
[2] "Obituary of Enid Ronalds (1919-2008)" Sydney Morning Herald, 11 August 2008.
This article was initially written by Leslie Goldberg and revised using:
A McLeod The Summit of her ambition: the spirited life of Marie Byles, privately published, Sydney, 2016
M Harper, The ways of the bushwalker, UNSW Press, Sydney, 2007