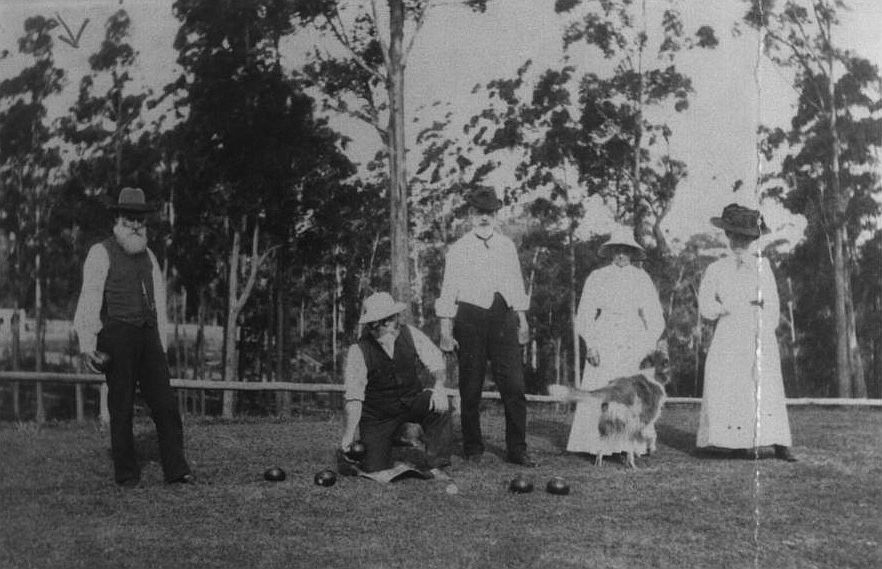 Bowls and croquet
As with tennis, a number of the landholders at the beginning of the twentieth century had their own bowling greens. These included (both in 1912) Frederick Mason in Hull Road (where he had a 90 ft by 60 ft green) and Mr Harry O Holcombe who used his lawn tennis court in Copeland Road as a rink upon which to play bowls. Mr Mason's enthusiasm for bowls commenced during a visit to England where his brother was a keen bowler. In Cheltenham both William Harris of Edensor and William Chorley of Mount Pleasant each had their own greens.
In October 1912 Mr Harris donated some 2 acres of land adjacent to his home to form a recreation club at which bowls and other sports would be played. Rinks were being built in April 1914 [1].
At the same time, living in Beecroft was John Wallace the Treasurer of the NSW Bowling Association and formerly a member of Randwick Bowling Club. He encouraged the calling of a public meeting which was held on 10 March 1913 to form a bowling club in Beecroft. At this meeting the inaugural committee was formed of W D Schrader (Solicitor), Henry Little (real estate agent) Frederick Mason (builder), Mr Stobo (storekeeper) and John Laurie. In April 1914, 6 rinks and a croquet lawn were nearing completion in Copeland Road and the first game was played in May 1914 – just after the first game in Cheltenham. Beecroft commenced with a club of 51 men and was one of the first 25 metropolitan Bowling Clubs.
Despite Cheltenham having the earlier public meeting the history of the Beecroft Club records: "it had been hoped to obtain many members for the Bowling Club from the Cheltenham end of the district which would have made the financing of the construction and maintenance comparatively easy; indeed Cheltenham was represented at the initial meeting in March 1913. But shortly after it was announced that Mr W H Harris had generously made available for purposes of a Recreation Club part of his property adjoining Cheltenham Railway Station. So the Beecroft Club shrugged its shoulders, wished the Cheltenham movement good luck and prepared to face up to its commitments with cheery optimism" [2]
Just as Mr Harris was a generous benefactor and keen bowler who supported bowling in Cheltenham, so the club in Beecroft was endowed by Mr Robert Vicars both in terms of additional land and funds to maintain and expand the club. In 1914 Mr Vicars donated a trophy for a competition between the Beecroft and Cheltenham clubs. Mr Vicars was President of Beecroft for 23 years.  
A ladies bowling club was not formed in Beecroft until 1936 (with women previously playing croquet) and in 1945 Mr E S O'Sullivan was appointed the Beecroft Club's first coach.
At both Cheltenham and Beecroft there was a connected Croquet Club – which in the case of Beecroft was closed in 1942.
Membership numbers at both bowling clubs grew significantly throughout the 1950s to 1970s. Rinks were filled with players in white on both Saturdays and (during that latter part of that period) Sundays. The ladies ceased wearing white in 2000. At the commencement of the twenty first century the playing membership of the Beecroft Club began to contract and the club in 2004 sold some one of its greens to the neighbouring primary school.
As with the tennis clubs, so during the first few decades of both bowling clubs, members found that social activities centred on their club. From the time of World War 1 until it was sold in 1945, the piano provided considerable pleasure. Even two years after it was sold, the nature of social activities organised at the Beecroft Club meant that a vote to apply for a liquor licence was lost by 39 votes to 7. The first liquor licence was not obtained until 1955. In reminiscing over the sale of the piano, Club member, Mr Laurie wrote:
"The older generation will recall the happy evenings spent in the home around the piano or at a card table; or in the School of Arts, when Charlie McKern wielded a clever baton in some popular Musical Comedies; or on the long verandah of the [Beecroft] Club House, when some excellent musical and other entertainments were staged. A piano was very necessary to the success of these Club entertainments, and it was with some pride that members acquired a piano. And now, shades of Henry Levy and R T B Andrews, it was decided to sell the piano! How these worthy old timers used to coax sweet sounds from the instrument. Henry with a vigourous thumping rhythm and Andy with clever rippling fingers. How on special occasions, when the Croquet Club joined with the bowlers, Mrs Seale led off with 'God Save the King' and how on more hilarious occasions, with Andy at the piano, H O Holcombe's stentorian voice could be heard outstanding in 'For the More We are Together.' But now times are changed, and the piano was largely a silent instrument" [3].  
The Beecroft clubhouse was opened in March 1964. For the Cheltenham clubhouse see the separate article on this website for the Cheltenham Recreation Club.
Despite smaller numbers (in 2013 standing at just under a 100), the players continue to enjoy their game. Beecroft has made a planned approach to improving competitive skills and this has resulted in the Men's Club having a team in the Zone finals each year since 2008. Despite the Men's and Ladies Clubs remaining separate (but since 1987 reporting to a single Board of Directors) mixed bowls have been held since 1955 – which were then described as "probably the first in Sydney and possibly in NSW." [4] Within the Ladies Club the outstanding champion is Isabel Hilditch who joined in 1976 and won many club championships including the Singles Championships 14 times.
[1]     Cumberland Argus and Fruigrowers Advocate, 4 April 1914 p8
[2]      J Lawry Bowls in Beecroft (Beecroft, 1947) p 10
[3]      J Lawry Bowls in Beecroft (Beecroft, 1947) p 70
[4]     Celebrating 100 years: Beecroft Bowling & Recreation Club Ltd 1913-2013 (Beecroft, 2013) p7
Beecroft Club Presidents
Year of commencement

Men

Women

1913

J Wallace

1915

H Little

1916

H Holcombe

1917

J North

1918

R Vicars

1919

J Laurie

1920

T Stobo

1921

A Moore

1922

R Hartwell

1923

A Dircks

1924

S Higgins

1925

R Vicars

1926

W Schrader

1927

W Ballard

1928

R Vicars

1936

J Bennett

1937

A Burrows

1938

E Pickford

1950

F Heard

1953

W Fullerton

1954

I Blair

1955

V Harrison

1956

J Trotter

1958

E Hills

A Haynes

1959

C Levick

1960

F Ferris

1961

G Baker

1962

P Whittall

V Harrison

1964

F Ferris

C Maguire

1966

J Perkins

1967

F Levick

1968

F Heard

1970

W Winley

J Winley

1972

J Perkins

1973

G Forbes

1974

A Foord

1976

G McCredie

J Prince

1978

A Prince

1979

M Martin

1980

J Martin

1982

A Wright

I Hilditch

1984

T Hilditch

1985

P Wardrop

1986

K Crook

1988

J Martin

J Hunter

1991

W Johnston

J Edwards

1994

D Bieske

J Teasdell

1996

K Tully

1998

P Short

C Tindale

2000

A Ryan

A Swan

2003

A Pulsford

S Butler

2006

P Short

C Tindale

2007

N Harrison

J Thorp

2010

D Gilbert

B Wood

2011

J Morris

2012

D Gilbert / 

N Harrison

J Morris